UjENA FIT Club 100 Running and Racing Photo Galleries
Best Road Races and the UjENA FIT Club is going to feature 100 photo galleries which we feel will entertain and inspire you.
Return to UjENA FIT Club home · Best Road Races · Best Shot Challenge · View All Galleries

2014 Rock The Parkway Half
79 photos. Posted Sunday, April 13th, 2014
Kansas City April 12...the 5th annual Rock the Parkway half marathon and 5k was run under good conditions. A new course record was set...
View Gallery

Double Road Race San Jose
243 photos. Posted Wednesday, March 5th, 2014
The day turned out perfect for the first Double Road Race of the year. It was held Feb 22 in San Jose. Start and...
View Gallery

2014 Carlsbad 5000
337 photos. Posted Monday, March 31st, 2014
It was a beautiful day in Carlsbad California for the 29th running of the Carlsbad 5000. This is the world's fastest 5k and the...
View Gallery

Kids Cup Mile San Jose Feb 2014
52 photos. Posted Tuesday, February 25th, 2014
The Bob Anderson's Kids Cup Mile is held at each Double Road Race. Before the start of the race, Bob Anderson leads to kids...
View Gallery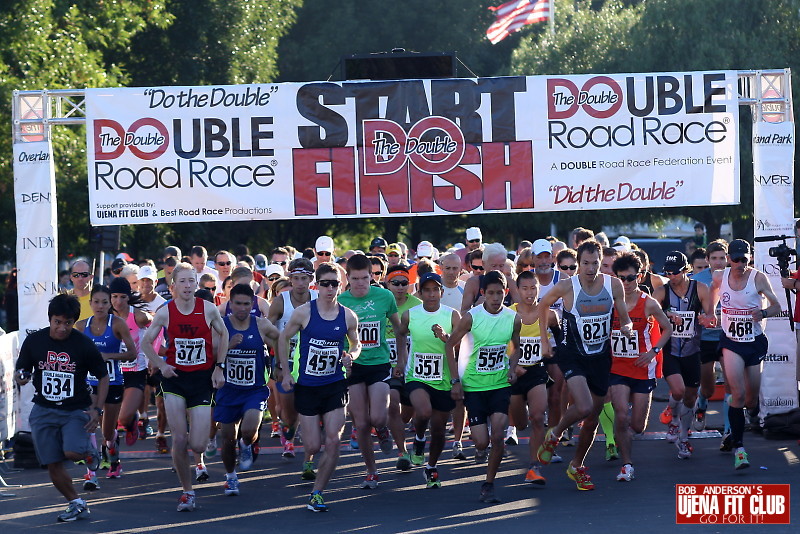 San Jose Double Road Race 10k Leg
The weather was nice and over 550 runners came to race in San Jose August 24, 2013. The first event of the day was the 10k leg of the San Jose Double. The start and finish line was at our host company IDT. photos by Catherine Cross

"Start of the 10k leg of the San Jose Double Road Race..."
Bob Anderson 8/24/13 5:41 pm
(x) Delete
Tag A UjENA Fit Club Member in this photo.
Use the form below to tag a UjENA Fit Club Member. First, search for a member, then press the Tag button to tag them.
More Galleries

#113 DO THE DOUBLE Training Run Aug 18
#114 San Jose Double Road Race 2013 Start
#115 Bob Anderson's Kids Cup Mile San Jose 2013
#116 San Jose Double Road Race 2013 10k Leg
#118 San Jose 2013 Double Road Race 5k Leg
#119 San Jose Double Road Race 2013 10k Leg FInish
#120 Halftime San Jose Double Aug 24 2013
#121 San Jose Double Road Race 2013 5k leg Start
#122 San Jose Double Road Race 2013 5k leg Finish
#123 Ujena 5k San Jose Run/Walk August 24 2013
#124 San Jose Double 2013 Awards and Fun
#125 DO THE DOUBLE Training Run Los Gatos 9/22/13
#152 2014 San Jose Double Road Race and Ujena 5k
#153 San Jose Double Feb 2014
#154 2014 San Jose Double Road Race 5k leg
#155 2014 San Jose Double Road Race 5k leg 2
#156 Kids Cup Mile San Jose Feb 2014
#158 Double Road Race San Jose
All Galleries