"I just like a challenge and I like to put it out there what I intend to do" says Christine, who has lived in the United States since the mid '90s. "I set goals for myself and one of them this year was to break my age group record."
At Chicago her target is – sub 2:52! She plans to run 6:30-6:38 per mile pace ("No slower than 2:38") from the start, and keeping something in reserve for the latter stages of the race, hopes to run 6:30 per mile for the last few miles.
The women's world marathon record in the 55-59 age group is 2:52:14, set by Rae Baymiller in the Chicago Marathon on October 11, 1998.
Christine is confident in her conditioning, and the flat-as-a-table Chicago course is conducive to fast times. Working with a professional coach for the first time in her career (Tom McGlynn, a world-class runner in his own right, with a 2:15 best in the marathon), Christine says she was injury free all last year, a big advantage in her preparation, and the track interval workouts, which she does twice a week, e.g., 8 x 1 mile, 1 minute rest in between, at 6:11 pace, have brought her fitness to a peak level which hopefully will pay off in Chicago.
"Fastest I've run on the track in five years," Christine says.
Her weekly training routine this year has consisted of two track workouts (Monday and Thursday), medium length runs in between, a long run of 20-23 miles on Saturday, and a day off on Sunday. Her total mileage for the week is typically 75 miles.
The great American runner George Young once said, "There's no luck in distance running, only hard work." He could have been speaking of this dedicated lady who's arguably the fittest 57-year-old in the world.
Christine Boyle Kennedy first started running at age 28 when she was a stay-at-home mom with two daughters in Galway, Ireland – her daughters Fiona, 35, and Michelle, 34, both live in London, England now, where Fiona works for the Bank of Ireland and Michelle is a doctor. The family moved to the United States in the early '90s, ultimately settling in the San Francisco area. Christine and her husband have since divorced. When she isn't training, Christine (or Chris as her friends call her) works at the Athletic Performance running shoe store in Los Gatos, Calif.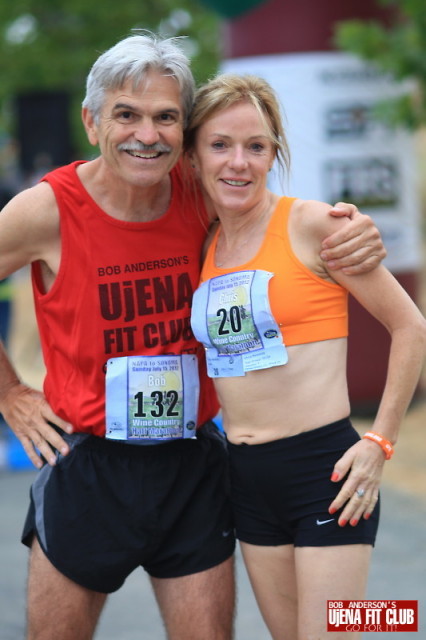 Photo: Bob Anderson and Christine right before the start of the Napa to Sonoma Half Marathon.
"She absolutely lives and breathes running," Bob Anderson, founder of the Ujena Fit Club, former publisher of Runner's World and a dedicated runner himself (for more than 50 years) has said of her. "There's nothing more important in her life."
Christine has run at least 35 marathons ("I've lost count." she jokes, "I've stopped counting."). Now she runs just two marathons a year. She has won her age group at the Boston Marathon the last four years, and her performance last year at Boston – 3:00:42 – was rated the best age adjusted performance by anyone in the entire race!
A member of the Ujena Fit Club, Christine will be a participant on Dec. 23 at Pleasanton. Calif. in the first Double, or Double Road Race as it's also called (10K followed by a 5K), to be held on American soil. A few days later, on Dec. 29, Christine Kennedy will celebrate her 58th birthday, probably with a good training run, as the beat goes on in what has become a truly amazing running career.
And to think none of this probably would have happened if Christine Kennedy had run a mere five seconds faster in the Berlin Marathon 23 years ago.