As it is, Conley and her Sacramento teammates Alycia Cridebring, 22, and Rachel Mitchell, 23, produced a tremendous 1-2-3 punch in Pleasanton, all three of them also bettering the previous women's world record in the Double 15K, to easily win the women's team competition in the event. Yes, a team competition is very much part of Double Racing® as well. It's very much like adding a cross-country scoring element to road racing. And why not? Not only a perfectly valid idea, but perhaps one long overdue. Conley ran 49:24.0 (33:34.8/15:49.2), Cridebring 51:24.4 (34:14.5/ 17:09.8), and Mitchell 51:50 (34:48.9/17:02.0). Again, the previous world record had been 52:13.
A month later, on Jan. 18, Kim Conley was an impressive women's winner in the U.S. Half-Marathon Championships in Houston, Tex., running strongly from the start and then powering away over the last 5K to win by 32 seconds in a time of 1:09:44.
If that pattern sounds similar to the way she ran in Pleasanton, you might find it interesting to know that a few days after her victory in Houston, she e-mailed Bob Anderson and said, in part, "I just wanted to say thanks for creating a great event in the Double Road Race®. After my half-marathon on Sunday, one of my first thoughts was how well the Double prepared me for it. The half played out very similar to my approach in the Double … 5:23ish pace and letting it rip in the final 5K."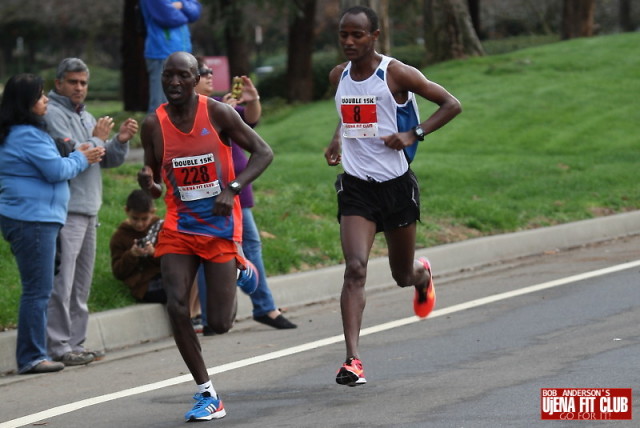 The battle up front between Julius and Tesfaye.
Strategy wasn't the issue for Kenya's Julius Koskei, health was! The holder of the men's world record in the Double 15K – the 44:24:01 as previously mentioned – Koskei (pronounced Kos-kay) was back to have another go at it on the very course where he had set the record the previous year, but a cold had left him in a weakened state.
Before the race, Koskei, one of the nicest sportsmen you'll ever meet, told his main rival, Ethiopia's Tesfaye Alemayehu (Al-a-my-oh), who had been second to him when Koskei set the record, "This time I am not so strong."
Alemayehu, a 5'9", 125-pound Ethiopian who's originally from Addis Ababa but now lives in Antioch, Calif., in the San Francisco Bay area, could have taken this as a signal he should push a hard pace in order to simply overwhelm Koskei and perhaps go after his world record. But instead he chose to run a strategic race, being content to follow as Koskei, 32, led the first five miles of the opening 10K. Then the taller Ethiopian (Koskei is only 5'5"), surged past so fast, all Koskei could do was hold on as best he could as Alemayehu, who's 29, opened a gap of almost 40 seconds on him over the last 1¼ miles. They finished in 30:07.5 and 30:46.2 respectively.
In the concluding 5K after the recovery break, Koskei felt well recovered despite his cold and his earlier effort, so he went in front again, just in case he could somehow make up the lost time. But he soon realized there was no way that was going to happen because Alamayehu still looked strong. Then at two miles, an unheralded young American, Jovanny Godinez, 23, of Hayward, Calif., who had run the 10K in 31:10, shot into the lead – with a vengeance! "We didn't know he could run a 5K like that!" Koskei said in admiration and surprise afterwards. Alemayehu went with Godinez; Koskei was suddenly left adrift on his own.
Over the final mile, Alemayehu, his victory on aggregate time now assured, stayed right with Godinez, but the American refused to be overtaken and at the finish he had a few yards in hand as they clocked 14:56.7 and 14:58.2 respectively. Koskei finished the 5K in 15:04.9.
Alemayehu had won in impressive fashion but Koskei's record had survived, and afterwards Koskei opined that if Alemayehu had really run aggressively from the gun, instead of choosing to follow, he might indeed have broken the record or at least threatened it.
There was, however, more to the story than people knew, as some weeks later Alemayehu revealed that he wasn't at his 100 percent best for the race either – he'd been dealing with lingering stiffness and pain in his left hamstring, thigh and hip. Although the problem wasn't as bad as the previous year when Koskei had beaten him, it was significant enough to dictate a strategy of caution.
He explained later, "I was dealing with my injury, so I just followed him."
Therefore, even though Alemayehu was obviously stronger than Koskei last December in Pleasanton, any attempt on the men's world record by him would have to wait till another day.
Koskei and Alemayehu are truly wonderful runners, friends as well as rivals, and rather evenly matched – Koskei has run 2:10:15 for the marathon and 1:01:15 for the half-marathon; Alemayehu has run 2:11:18 and 1:01:35. This time Koskei lost, but he retained his world record, and afterwards he said philosophically, "It's hard to be very fast all the time."
There were many other impressive performances in Pleasanton in addition to the heroics provided by Gesabwa, Conley, Alemayehu, Koskei, Godinez, Kennedy and company.
A young Swedish runner, 19-year-old Anders Fox, who was on a two-week vacation in the U.S., set a new world 19 and under men's record for the Double 15K as he posted an aggregate time of 48:51.0 (32:53.0/15:58.0) to break the previous world record of 50:47 held by Jose Pina, Jr., of San Jose, Calif.
Young Pina, who's only 17, was also in the race, but this time he finished as the runner-up with a combined time of 49:13.7 (33:01.7/16:12.0). He'll still have two years to recapture the 19 and under record.
Also on the program at the third annual Pleasanton Double Racing® Festival were a Double 8K (5K + 3K) and a Kids' Cup 1½ Mile (1 mile + half-mile).
Nicholas Spector, 23, of Sonoma, Calif., and Ivan Medina, 28, of Hayward. Calif., made an exciting battle out of it in the Double 8K, running 16:02.6 and 16:03.7 in the opening 5K leg. However, in the concluding 3K, Spector prevailed by an even 10 seconds, running 8:30.0 compared to Medina's 8:40.0, to win on aggregate time, 24:32.6 to 24:43.7.
The women's winner in the Double 8K was Andrea Page, 38, of Pacific Grove, Calif., who ran the 5K in 20:28.4 and the 3K in 11:00 for a combined time of 31:28.4.
Finally, the Bob Anderson Kids' Cup Double 1½ Mile was won by Omar Pina, 13, of San Jose, who ran the mile in 5:10 (remember, this is a 13-year-old!) and the half-mile in 2:42 for a combined time of 7:52. Omar is the younger brother of Jose Pina, Jr. Their father, Jose Pina, Sr., ran the Double 15K at Pleasanton, as did Jose Jr., and finished second in the men's 40-45 age group with an aggregate time of 51:37.6 (34:34.9/17:02.7).
Natalie Mazaud, 12, of Carmel, Calif., was the girl's winner in the Kids' Cup Double 1½ Mile as she ran the mile in 5:56.3 and the half-mile in 3:02.1 for an aggregate time of 8:58.5.
There were a total of 846 registered runners in the three races at the third annual Pleasanton Double Racing® Festival, the highest total in a Double Racing® competition yet. A sport that some initially might have thought was some kind of fad or gimmick is clearly building a strong following, especially since Double Racing® has been expanded to include races over a variety of distances – Double 21K, Double 15K, Double 8K, Kids' Double 1½ Mile, etc.
Bob Anderson, who founded Runner's World magazine when he was a senior in high school and now in his 60s has created the sport of Double Racing®, competed in the Double 15K at Pleasanton on an injured foot (he competes in every Double 15K), finishing third in the 65-69 age group with an aggregate time of 1:13:01.2 (49:39.3/23:21.9).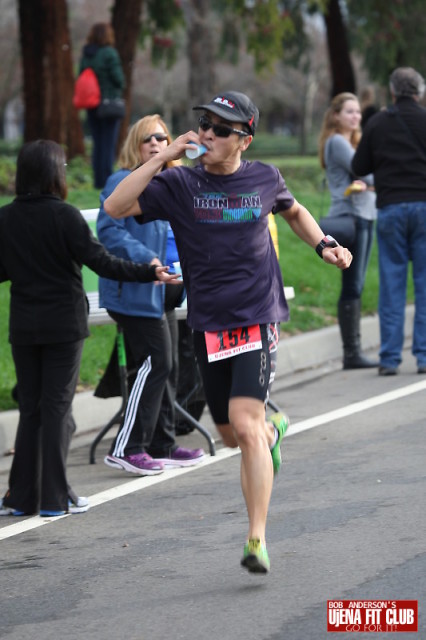 Mastering the Double Challenge.
"The reaction to this Double was incredible!" he said afterwards. "The reaction the previous day to the awards ceremony for the 2014 season – incredible! As the years go by, I'm sure this awards ceremony is going to become a very big event in its own right."
He didn't say it but his words implied it – sort of an Academy Awards for the sport of Double Racing®, which he's worked so hard to create and build into a solid and vibrant entity on the American sports scene.
Anderson is not only proud of his creation but he loves competing in the Double so much he says that if there were enough Doubles on the schedule – something he's striving to make happen – he'd probably run Doubles almost exclusively, with only an occasional straight race thrown in. Asked to explain why, he responds almost as if he'd been asked a rhetorical question: "The Double is a much more fun event than a standard 10K, right off the bat!" It's a reference to the fact that with all the elements and nuances involved in Double Racing®, so many more variables to play with, a Double is not only a far more interesting type of event than a straight race, but comparing a regular race to a Double is like comparing checkers to chess.
This year the fourth annual Pleasanton Double Racing ® Festival will take place in Pleasanton on December 20. Get in on the fun, be part of the action, make plans to be there!