Due to this uncertainty plus the fact she and her fiancée had just driven 3000 miles across the country to relocate to the San Francisco Bay area, Pritz went out cautiously and with no set expectations in the 10K. Nevertheless, she still ran the 10K on the scenic, slightly rolling, oceanside, out-and-back course in 34:44, putting her 18 seconds up on Crouch's world record pace and a full five minutes and 39 seconds up on the second-place finisher in the 10K, Monica Jo Nicholson, 32, of Armas, Calif., who ran the 10K in 39:18. Christine Kennedy, who's from Los Gatos, Calif., ran with Nicholson for the first mile, lost ground over the next two miles, then held her own over the last three miles after the turnaround to finish 31 seconds behind Nicholson in 39:49.

Having run the 10K that fast, Pritz was now honor bound to try to get her world record back. Christine Kennedy, who had spoken to Pritz before the race and during the recovery period referred to as the Halftime, later said, "After the 10K, when she realized she was in better shape than she thought she was, that's when she decided to go for the record."
Go for the record she did, closing the deal by running the 5K in 17:30. Thus was Molly Pritz's honor restored and the world record securely back in her hands. Now what could she do if she was really at the peak of fitness?
A Pennsylvania native, Molly has been living and training in Boulder, Colo., the last couple of years. Her relocation to the San Francisco Bay area is the reason why she ran the Pacific Grove Double in the first place – Pacific Grove, which is situated between Carmel and Monterey, is approximately 120 miles south of San Francisco. Now if she can only stay injury free, there's no doubt this talented athlete, who's run 1:10:45 for the half-marathon, 1:25:38 for 25K and 2:31:52 for the marathon, may indeed be able to show the running world, "You ain't seen nuthin' yet."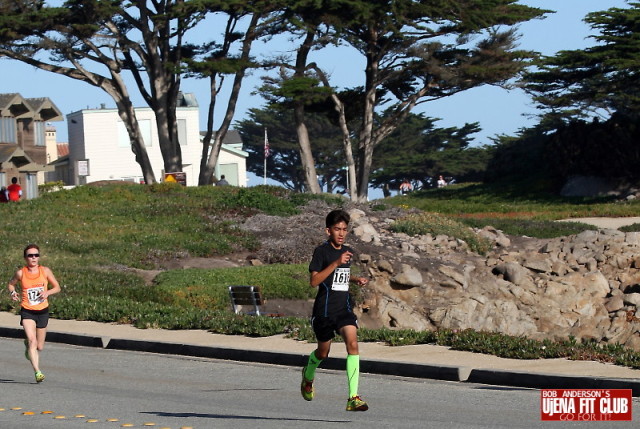 Photo: Christine with about a mile to go in the 10k leg.
Further up the road at Pacific Grove Sunday in the women's race, Christine Kennedy was able to turn the tables on Monica Jo Nicholson in the 5K, although she couldn't build enough of a lead on the personable lady known as Mojo, who is in training to become a California Highway Patrol officer, to take over second place.
Christine said afterwards, "In the 5K she was slightly ahead, maybe about 30 meters ahead. Then at about two miles I accelerated, caught her, and when I went by she didn't come with me."
Christine would run the 5K in 20:23, Monica Jo in 20:30, but Mojo finished second on aggregate time, 59:48 to Christine's 1:00:12.
Curious minds want to know: Could Monica Jo have stayed with Christine over the last mile of the 5K if necessary – remember, she was holding a 31-second lead from the 10K.
Christine Kennedy, the ageless one, has her own explanation. Whether it's correct or not, it bears repeating.
"At my age (59), when these younger runners (Monica Jo is 32) see me come by, they're horrified – it's like, 'Oh, my god, I must really be running poorly, I can't let her go by!' – and if they can respond, they will. It's not me, it's my age that makes them feel they're not running up to par. On the other hand, from my standpoint, at that stage of the race, if I'm moving up on a younger runner, I'm really focused and I'm thinking, 'I want it more than they do,' I'm extra motivated while they may be discouraged."
Adam Roach lives in Monterey and the beautiful course of the Pacific Grove Double is right in his backyard, so to speak. He used this and the occasion to best advantage Sunday to finally emerge victorious in the Double, although he certainly didn't win in a runaway. He ran the 10K in 32:57 to finish 13 seconds up on Osamu Tada, 33, of Sacramento, who finished in 33:10. Adam then protected his lead by running the 5K in 16:44, three seconds faster than Tada. This gave him the tall, slender runner from Monterey a 17-second margin overall as their aggregate times added up to 49:41 and 49:58 respectively.
Robert Verhees of San Diego finished third in 52 minutes even, running the 10K in 39:49 and the 5K in 17:48 – a very respectable performance considering he's 48!
This was the first time the Double Road Race™ had been held in Pacific Grove. There were 520 runners in the race on a glorious California day, and they got to experience a not-to-be-believed, out-and-back course that runs along the beautiful blue Pacific and takes runners through part of world-famous 17-Mile Drive between Carmel and Monterey.
"This is such a beautiful course in such a beautiful area," Bob Anderson, creator of the Double Road Race™, said, "I think runners will come from all over the country to run this race for that reason alone."
Anderson, who lives in Los Altos, Calif., and has run in all 11 Doubles held thus far plus the seven 15k Challenges in Mexico following the same guidelines (he's the only one to do so), won the 65-69 age group in the Pacific Grove Double. He ran the 10K in 46:52 and the 5K in 23:33 for an aggregate time of 1:10:25.