2013 Ujena Fit Club Elite Racing Men's Rankings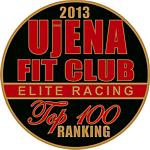 Click here for information about receiving your 2013 UjENA Fit Club Elite Racing Top 100 Ranking Medal
Members who post races on their Ujena Fit Club profiles are eligible to appear in the rankings. Members receive 100 points for each race they post and include their finish time. They also receive 20 points for each mile raced. Top 250 Men shown below. Only timed races with results posted on the internet count. If you do an event that includes other activities (like the Tri) only list the running distance and the time for that distance, however list your place for the overall event.
The deadline to enter your 2013 races (for consideration in the contest) was noon (PST) January 31, 2014. The top 100 men and top 100 women will receive a special UjENA Fit Club Elite Racing Top 100 Ranking medal, as pictured to the right. Click here to add a 2013 race. You can still enter your races for 2013, but the contest period has concluded. The points listed on this page are frozen. Besides the medal, the top three men and women will receive FREE entry into two Double Road Races of their choice (not transferable). The overall winners, Chris Jones and Sharon Vos, will also be awarded up to a two night stay at our official hotel at the Pleasanton Double Road Race Dec 21, 2014.
Click here for Women's Rankings.
*Performance points are calculated on the Ujena Fit Club Men's and Women's Runner Performance page for 2013.
2013 Age Group Ranking · 2014 Rankings



JR Mintz
Play Hard, Don't Work Hard Run4Play & Run2Play No Repeat Racr-Been There, Done That Runr Just Do it "All" Runner & Racer Race2PLACE ...
View Profile

Place
Runner Name
1st Quarter
2nd Quarter
3rd Quarter
4th Quarter
*Performance
Year Total

Men
1
Chris Jones
Races (80)
17,832
15,397
13,608
10,094
0
56,931
2
JR Mintz
Races (110)
8,157
5,090
6,460
7,588
0
27,295
3
Peter Mullin
Races (48)
2,780
2,352
1,878
2,817
17,239
27,066
4
Jon Williams
Races (133)
7,057
5,332
5,052
6,770
1,163
25,374
5
michael wardian
Races (23)
2,693
2,648
3,310
4,078
1,917
14,646
6
Alan Reynolds
Races (46)
1,745
3,231
2,236
2,271
4,545
14,028
7
Dave Nevitt
Races (38)
3,836
4,737
3,511
1,248
526
13,858
8
Jean Pommier
Races (15)
1,604
5,108
3,766
1,307
1,496
13,281
9
George Rehmet
Races (28)
4,258
2,822
3,906
1,748
0
12,734
10
daniel alejandro valderrama espinosa
Races (36)
2,126
4,629
2,753
2,393
726
12,627
11
Tom Lichty
Races (57)
2,678
2,813
3,941
1,913
571
11,916
12
Sean Curry
Races (30)
0
3,906
2,963
4,130
0
10,999
13
Christopher Sullivan
Races (34)
1,859
2,920
2,564
3,544
0
10,887
14
John Pitzel
Races (47)
1,755
3,247
2,444
3,425
0
10,871
15
Shane Hillman
Races (40)
1,734
2,891
3,230
2,682
0
10,537
16
Tyler McCandless
Races (15)
1,361
1,396
1,758
224
5,501
10,240
17
Ivan Medina
Races (22)
835
2,183
1,092
2,290
3,756
10,156
18
Julius Koskei
Races (13)
1,409
0
1,529
910
6,020
9,868
19
Tom McCormack
Races (17)
0
948
1,230
611
6,956
9,745
20
Ricardo Maldonado
Races (16)
1,982
1,132
666
886
5,023
9,689
21
Fernando Cabada
Races (12)
1,010
863
1,372
1,024
4,692
8,961
22
Brian Davis
Races (17)
549
848
1,012
2,036
4,289
8,734
23
Dave Miller
Races (26)
1,310
2,933
1,673
1,148
1,457
8,521
24
Roger Wright
Races (16)
1,148
786
4,320
1,872
0
8,126
25
Kurt Gogolin
Races (21)
0
2,691
1,669
1,572
2,011
7,943
26
Hans Schmid
Races (13)
549
1,896
120
2,120
2,852
7,537
27
Gabel Gloria
Races (23)
1,448
1,972
1,172
2,920
0
7,512
28
Barry Sackett
Races (14)
224
1,596
2,986
1,872
272
6,950
29
Steve Cryer
Races (21)
1,435
1,896
1,636
1,854
17
6,838
30
John Hanson
Races (18)
1,210
1,445
2,383
1,682
0
6,720
31
Kenley Gaffke
Races (14)
2,169
986
1,107
2,448
0
6,710
32
David George Johnson
Races (18)
1,397
1,635
362
2,420
488
6,302
33
Daniel Tapia
Races (8)
473
986
910
648
3,175
6,192
34
Brian Pilcher
Races (9)
586
947
300
162
4,154
6,149
35
Bob Anderson
Races (21)
1,048
1,072
1,306
2,360
61
5,847
36
Matt Duffy
Races (12)
911
585
912
910
2,485
5,803
37
Frederick Noack
Races (14)
1,972
1,500
886
1,348
0
5,706
38
Meb Keflezighi
Races (7)
0
948
688
624
3,329
5,589
39
Chris Chavez
Races (9)
986
797
406
362
2,973
5,524
40
Jay Survil
Races (13)
0
2,372
2,020
0
1,013
5,405
41
Robert Wambua
Races (8)
1,009
162
1,048
0
3,113
5,332
42
Jack Mosher
Races (13)
0
1,967
1,436
1,872
0
5,275
43
Gary Greenberg
Races (18)
1,147
853
1,654
1,310
0
4,964
44
Bill Stogsdill
Races (15)
162
1,734
910
1,934
0
4,740
45
Kevin Hahn
Races (10)
0
1,710
848
2,072
0
4,630
46
Adam Roach
Races (8)
586
0
572
1,634
1,733
4,525
47
Bruce Gilbert
Races (14)
362
2,010
834
1,296
0
4,502
48
Malcolm Richards
Races (6)
0
586
286
1,348
2,218
4,438
49
Bobby McKee
Races (8)
1,872
0
0
1,010
1,442
4,324
50
Steve Barnes
Races (23)
646
1,434
1,165
1,010
0
4,255
51
Greg Schultz
Races (19)
666
872
1,382
723
491
4,134
52
Kevin Downie
Races (18)
564
895
1,254
0
1,280
3,993
53
Kyle Hubbart
Races (13)
396
735
1,103
224
1,510
3,968
54
Milton Lorig
Races (14)
1,348
1,021
809
786
0
3,964
55
Bill Dunn
Races (11)
0
848
812
870
1,391
3,921
56
Dan Furtado
Races (13)
810
0
1,296
1,796
0
3,902
57
Steven Richardson
Races (18)
1,485
1,658
548
162
0
3,853
58
Will Adams
Races (11)
200
362
648
2,482
0
3,692
59
Preston Hamilton
Races (9)
986
1,348
286
1,029
0
3,649
60
Scott Poff
Races (11)
724
811
1,154
848
0
3,537
61
John Hofacre
Races (19)
299
972
772
1,258
0
3,301
62
Bill Perry
Races (8)
624
648
162
1,310
500
3,244
63
Ron Pate
Races (12)
1,629
361
362
162
665
3,179
64
Charles Matheri
Races (9)
0
0
286
2,068
820
3,174
65
John Van Duser
Races (10)
0
1,682
986
492
0
3,160
66
Giliat Ghebray
Races (5)
286
573
0
224
1,922
3,005
67
Elam Wangwero
Races (4)
249
934
0
0
1,752
2,935
68
Steve Holland
Races (7)
1,710
624
286
286
0
2,906
69
Regan Dunn
Races (13)
504
904
610
324
528
2,870
70
Tim McMenomey
Races (13)
1,596
880
380
0
0
2,856
71
Tesfaye Alemayehu
Races (3)
0
0
724
286
1,804
2,814
72
Tim Sakatani
Races (11)
0
1,023
1,156
610
0
2,789
73
Ray Avalos
Races (7)
0
624
286
1,796
0
2,706
74
Osamu Tada
Races (7)
0
224
286
1,796
320
2,626
75
Alan Poisner
Races (14)
0
709
890
1,009
0
2,608
76
Ron Kiyono
Races (7)
300
0
572
1,634
98
2,604
77
Chris Hart
Races (13)
685
606
324
972
0
2,587
78
James Clark
Races (11)
324
1,034
386
824
0
2,568
79
Jesus Rios
Races (11)
361
648
734
810
0
2,553
80
Jose Pina Jr.
Races (5)
0
0
448
610
1,365
2,423
81
Bob Plumeau
Races (6)
362
0
1,196
848
0
2,406
82
Neville Davey
Races (5)
0
411
340
224
1,427
2,402
83
Steve Gilbert
Races (9)
386
1,296
0
686
0
2,368
84
Brad Chatfield
Races (14)
257
610
987
448
0
2,302
85
Armand Escanilla
Races (9)
0
555
1,734
0
0
2,289
86
addislewt girma
Races (5)
0
0
534
586
1,088
2,208
87
Matthew Laye
Races (4)
0
1,173
0
362
639
2,174
88
Nick Spector
Races (9)
716
0
0
759
671
2,146
89
Mike Fong
Races (6)
224
986
510
362
0
2,082
90
Michael Dove
Races (7)
473
686
648
0
271
2,078
91
Jose Maldonado
Races (7)
362
362
0
1,348
0
2,072
92
Nathan Uhl
Races (8)
0
772
586
648
0
2,006
93
Brian Smith
Races (5)
0
1,372
0
624
0
1,996
94
Terry Mccluskey
Races (3)
286
0
162
624
917
1,989
95
Dan Roddy
Races (9)
300
848
324
448
29
1,949
96
Gerry Elemento
Races (8)
0
610
796
524
0
1,930
96
Michael Anderson
Races (5)
362
624
220
724
0
1,930
98
greg mandler
Races (7)
0
362
224
1,334
0
1,920
99
Cheyne Inman
Races (3)
624
0
0
910
385
1,919
100
Jose Pina
Races (7)
0
0
1,020
466
372
1,858
101
Eladio Valdez III
Races (5)
0
286
524
986
0
1,796
102
Kalei Kalani
Races (7)
0
324
1,096
362
0
1,782
102
Glenn Stellhorn
Races (7)
224
648
386
524
0
1,782
104
Tim Fry
Races (6)
0
362
872
524
0
1,758
105
Andrew Brazee
Races (6)
0
1,610
140
0
0
1,750
106
Christopher Cecil
Races (6)
0
524
466
724
0
1,714
107
Mark Tarwater
Races (6)
0
810
162
724
0
1,696
107
Doug Medd
Races (6)
0
1,334
0
362
0
1,696
109
Bob Lord
Races (7)
524
686
120
362
0
1,692
110
Kyle William Lefeber
Races (8)
0
162
1,154
362
0
1,678
111
Rick Allan
Races (5)
362
724
224
362
0
1,672
112
Josh Baden
Races (3)
0
648
0
624
333
1,605
113
Sean Brown
Races (2)
0
0
286
624
680
1,590
114
Ernesto Regalado
Races (6)
0
162
672
724
0
1,558
115
Benson Chesang
Races (3)
0
286
404
0
837
1,527
116
Danilo Purlia
Races (6)
0
0
510
972
0
1,482
117
Joseph Martinez
Races (6)
0
586
872
0
0
1,458
118
Austin Fiesel
Races (9)
0
1,092
120
200
0
1,412
119
John Hale
Races (3)
0
249
0
586
484
1,319
120
Maurice Monteau
Races (4)
0
1,296
0
0
0
1,296
120
Rolwin Lewis
Races (4)
0
0
286
1,010
0
1,296
122
Steven Miller
Races (3)
986
0
0
286
0
1,272
123
mark Fry
Races (3)
0
848
286
0
136
1,270
124
Lance Porter
Races (4)
362
586
286
0
0
1,234
125
Joe Moore
Races (2)
0
0
0
510
707
1,217
126
Jesse Magana
Races (7)
162
282
324
448
0
1,216
127
Tony Raboin
Races (4)
0
828
162
0
222
1,212
128
Alex Nancarrow
Races (5)
0
324
510
362
0
1,196
129
BILL JONES
Races (4)
362
0
286
510
0
1,158
130
Mathew Chesang
Races (2)
0
648
0
0
499
1,147
131
Jason Browning
Races (6)
162
934
0
0
0
1,096
132
gerald griffitts
Races (3)
848
224
0
0
0
1,072
132
Harlan Lopez
Races (3)
0
0
286
648
138
1,072
134
MARK BERRY
Races (5)
0
162
510
386
0
1,058
134
John Hirschberger
Races (3)
249
162
0
624
23
1,058
136
Eldon Regua
Races (3)
362
0
586
0
0
948
137
Robert Verhees
Races (2)
286
0
0
286
373
945
138
Brad Rhoden
Races (3)
0
648
0
286
0
934
139
Brock Emmert
Races (3)
0
0
634
286
0
920
140
Jared Nyamboki Abuya
Races (1)
624
0
0
0
277
901
141
Mark Goldman
Races (3)
0
0
286
586
0
872
142
Teresa Fekensa
Races (1)
0
0
362
0
448
810
143
KONSTANTINOS POULIOS
Races (1)
0
0
0
286
408
694
144
George Karavidas
Races (1)
0
0
0
286
403
689
145
Kevin McGinnis
Races (2)
0
0
0
510
164
674
146
Ashok Popat
Races (3)
0
0
0
672
0
672
147
Nando Gonzales
Races (2)
0
0
286
362
0
648
147
James Burke
Races (2)
0
0
362
286
0
648
147
Tom May
Races (2)
0
648
0
0
0
648
150
David Rodriguez
Races (1)
0
0
0
624
0
624
151
keith hedlund
Races (2)
224
0
286
0
81
591
152
Kwstas Drosos
Races (1)
0
0
0
286
292
578
153
Matthew Proctor
Races (1)
0
0
286
0
287
573
154
Gavin Dunn
Races (2)
0
286
286
0
0
572
154
Kerry McDermott
Races (2)
0
286
0
286
0
572
154
Jason Dunn
Races (2)
0
286
286
0
0
572
154
Rubicel Hernandez
Races (2)
0
0
572
0
0
572
154
Bertrand Newson
Races (2)
0
0
286
286
0
572
154
Paul Wagner
Races (2)
0
286
0
286
0
572
154
Indy Mazumder
Races (2)
0
0
286
286
0
572
154
Scott Poff
Races (2)
0
0
572
0
0
572
154
bill jones
Races (2)
0
0
286
286
0
572
163
Brandon Johnson
Races (1)
0
0
286
0
262
548
164
James Johnson
Races (1)
0
0
286
0
232
518
165
Scott Tucker
Races (1)
0
0
286
0
231
517
166
Darren De Reuck
Races (1)
0
0
286
0
227
513
167
Michael Brooks
Races (2)
0
0
0
510
0
510
168
Abu Kebede
Races (1)
0
0
286
0
220
506
169
Matt Levassiur
Races (1)
0
0
286
0
215
501
170
Don Fitzgerald
Races (1)
0
286
0
0
208
494
171
Tom Ford
Races (2)
0
0
200
286
0
486
171
Rick Torres
Races (1)
0
0
0
362
124
486
171
George Cross
Races (1)
0
0
0
286
200
486
174
Marc Keys
Races (1)
0
286
0
0
195
481
175
Bryan Johnson
Races (2)
180
286
0
0
0
466
176
Jerald Kracht
Races (2)
0
0
0
448
0
448
177
Jim Howe
Races (1)
362
0
0
0
42
404
178
Jay O'Neill
Races (1)
0
0
0
286
115
401
179
Thomas Dialynas
Races (1)
0
0
286
0
103
389
180
Michael Franke
Races (1)
0
362
0
0
0
362
180
Madison Roeder
Races (1)
0
362
0
0
0
362
182
Achilleas Tzenetopoulos
Races (1)
0
0
0
286
64
350
183
Colin Morrissey
Races (1)
0
286
0
0
20
306
184
Chris Copeland
Races (1)
0
0
287
0
0
287
184
MARC MOORE
Races (1)
0
0
0
286
1
287
186
frank clark
Races (1)
0
0
286
0
0
286
186
Rajesh Godbole
Races (1)
0
0
286
0
0
286
186
Andy Liu
Races (1)
0
0
0
286
0
286
186
Charles Spirakis
Races (1)
0
0
286
0
0
286
186
Armin Bernhard
Races (1)
0
0
286
0
0
286
186
phillip cheng
Races (1)
0
0
286
0
0
286
186
johnny jimenez
Races (1)
0
0
286
0
0
286
186
Jack Tade
Races (1)
0
0
286
0
0
286
186
jose j jimenez jr
Races (1)
0
0
0
286
0
286
186
Hector Romo
Races (1)
0
0
286
0
0
286
186
Zander Sprague
Races (1)
0
0
0
286
0
286
186
Aaron Bence
Races (1)
0
0
286
0
0
286
186
Alex Prushynskyy
Races (1)
0
0
286
0
0
286
186
Angelo Pietroforte
Races (1)
0
0
286
0
0
286
186
norry mcallister
Races (1)
0
0
286
0
0
286
186
Aju kuriakose
Races (1)
0
0
286
0
0
286
186
Sai Patnala
Races (1)
0
0
0
286
0
286
186
GILBERT GATPANDAN
Races (1)
0
0
0
286
0
286
186
Austin Horning
Races (1)
0
0
0
286
0
286
186
dylan dantzig
Races (1)
0
0
0
286
0
286
186
Austin Armstrong
Races (1)
0
0
0
286
0
286
186
David Jordan
Races (1)
0
0
0
286
0
286
186
Andrew McIntire
Races (1)
0
0
0
286
0
286
186
Jase Stanton
Races (1)
0
0
0
286
0
286
186
Leonardo Tapia
Races (1)
0
0
0
286
0
286
186
John Smothers
Races (1)
0
0
0
286
0
286
186
erik bergstrom
Races (1)
0
0
0
286
0
286
186
Craig Lore
Races (1)
0
0
286
0
0
286
186
Omar Gutierrez
Races (1)
0
0
286
0
0
286
186
Carlos Vasquez
Races (1)
0
0
286
0
0
286
186
Jonathan Geller
Races (1)
0
0
286
0
0
286
186
Alberto Fraide
Races (1)
0
0
286
0
0
286
186
joseph Condon
Races (1)
0
0
0
286
0
286
186
Winton Jew
Races (1)
0
0
0
286
0
286
186
David Moya
Races (1)
0
0
286
0
0
286
186
casey hentzen
Races (1)
0
0
0
286
0
286
186
Kevin Greenlee
Races (1)
0
0
0
286
0
286
186
Junjie Bu
Races (1)
0
0
0
286
0
286
186
Marek Dvorak
Races (1)
0
0
0
286
0
286
186
Ryan Langton
Races (1)
0
0
0
286
0
286
186
Larry Feigenbaum
Races (1)
0
0
0
286
0
286
186
Albert Villareal
Races (1)
0
0
0
286
0
286
186
Scott Willson
Races (1)
0
286
0
0
0
286
186
Paul Bajich
Races (1)
0
286
0
0
0
286
186
Brian Grudowski
Races (1)
0
0
286
0
0
286
186
Trent Briney
Races (1)
0
0
286
0
0
286
186
Michael Cosper
Races (1)
0
0
286
0
0
286
186
Gregory Hattan
Races (1)
0
286
0
0
0
286
186
Matt Barnhill
Races (1)
0
286
0
0
0
286
186
David Hack
Races (1)
0
286
0
0
0
286
186
Timothy Woods
Races (1)
0
286
0
0
0
286
186
Patrick Shea
Races (1)
0
0
286
0
0
286
186
Ross Westley
Races (1)
0
0
286
0
0
286
186
Michael Collyer
Races (1)
0
0
286
0
0
286
186
Daniel Greer
Races (1)
0
0
286
0
0
286
186
Dale Walker
Races (1)
0
0
286
0
0
286
186
Tim Gentry
Races (1)
0
0
286
0
0
286
186
Dan Kampen
Races (1)
0
286
0
0
0
286
186
Herschel Davis
Races (1)
0
286
0
0
0
286
186
Robert Wohler
Races (1)
0
286
0
0
0
286
186
Dennis Case
Races (1)
0
286
0
0
0
286
186
Stanley Peterson Jr
Races (1)
0
286
0
0
0
286
186
Ronald Mallak
Races (1)
0
286
0
0
0
286
186
Mike Frizzell
Races (1)
0
286
0
0
0
286
186
Paul Duncan
Races (1)
0
286
0
0
0
286
186
Brian Cole
Races (1)
0
286
0
0
0
286
186
Marvin Bescheinen
Races (1)
0
286
0
0
0
286
186
Jeremy Hammer
Races (1)
0
286
0
0
0
286
186
Benjamin Pease
Races (1)
0
286
0
0
0
286
186
Nick Wills
Races (1)
0
286
0
0
0
286
186
Alex Hendee
Races (1)
0
286
0
0
0
286
186
Greg Hall
Races (1)
0
286
0
0
0
286
186
Roger Samuel
Races (1)
0
286
0
0
0
286
186
Matt Thompson
Races (1)
0
0
286
0
0
286
186
Jonathan Fisher
Races (1)
0
0
286
0
0
286
186
Jerry Boone
Races (1)
0
0
286
0
0
286
186
Nicolas Shump
Races (1)
0
0
286
0
0
286
186
Steve Collier
Races (1)
0
0
286
0
0
286
186
James MacFarlane
Races (1)
0
0
286
0
0
286
186
Marc Ramos
Races (1)
0
0
286
0
0
286
186
Michael Torres
Races (1)
0
0
286
0
0
286
186
John F Sevilla
Races (1)
0
0
286
0
0
286
186
Miguel Alvarez
Races (1)
0
0
286
0
0
286
186
Chris McGuire
Races (1)
0
0
286
0
0
286
186
Felipe Andrew Lacaya
Races (1)
0
0
286
0
0
286
186
Will Hoang
Races (1)
0
0
286
0
0
286
186
Fuad Abu Nofal
Races (1)
0
0
286
0
0
286
186
Albert Pham
Races (1)
0
0
286
0
0
286
186
Andrew Bryant
Races (1)
0
0
286
0
0
286
186
Rob Myles
Races (1)
0
0
286
0
0
286
186
Eddie Wise
Races (1)
0
0
286
0
0
286
186
Henry Howard
Races (1)
0
0
286
0
0
286
186
Scott Spinner
Races (1)
0
0
286
0
0
286
186
Tim Conger
Races (1)
0
0
286
0
0
286
186
Mike Finkner
Races (1)
0
0
286
0
0
286
186
David Klibbe
Races (1)
0
0
286
0
0
286
186
Tim Beadles
Races (1)
0
0
286
0
0
286
186
Garvin Adamson
Races (1)
0
0
286
0
0
286
186
Mike Jaskoski
Races (1)
0
0
286
0
0
286
186
James Harris
Races (1)
0
0
286
0
0
286
286
Kavin Balakrishnan
Races (2)
0
0
282
0
0
282
286
Kathir Balakrishnan
Races (2)
0
0
282
0
0
282
288
Bill Rodgers
Races (1)
0
0
240
0
0
240
289
jim barker
Races (1)
224
0
0
0
0
224
290
Gary Funck
Races (1)
199
0
0
0
0
199
291
Justin Regan
Races (1)
0
0
0
168
0
168
292
austin nicolas
Races (1)
0
0
0
165
0
165
292
Manuel Serrano
Races (1)
0
0
0
165
0
165
292
Vinodh Rajagopalan
Races (1)
0
0
0
165
0
165
292
Thomas Gastellum
Races (1)
0
0
0
165
0
165
296
John Prabhakar
Races (1)
0
0
162
0
0
162
296
SHIVEN MEHTA
Races (1)
0
0
162
0
0
162
296
Joseph Rubino
Races (1)
0
0
162
0
0
162
296
Justin Wall
Races (1)
0
0
162
0
0
162
296
Kevin Chang
Races (1)
0
0
162
0
0
162
296
Frank Arevalo
Races (1)
0
0
162
0
0
162
296
Alexey Betin
Races (1)
0
0
162
0
0
162
303
Jose Morales
Races (1)
0
0
120
0
21
141
304
George Chase
Races (1)
0
0
0
120
0
120